Michael Douglas had his main ladies by his side at the Cannes Film Festival.
The 78-year-old actor was joined by wife Catherine Zeta-Jones and daughter Carys Zeta Douglas at the 76th edition of the festival in Cannes, France, on May 16.
The family attended the opening ceremony and the screening of the film "Jeanne du Barry." During the kickoff, Douglas was also honored with the honorary Palme d'Or.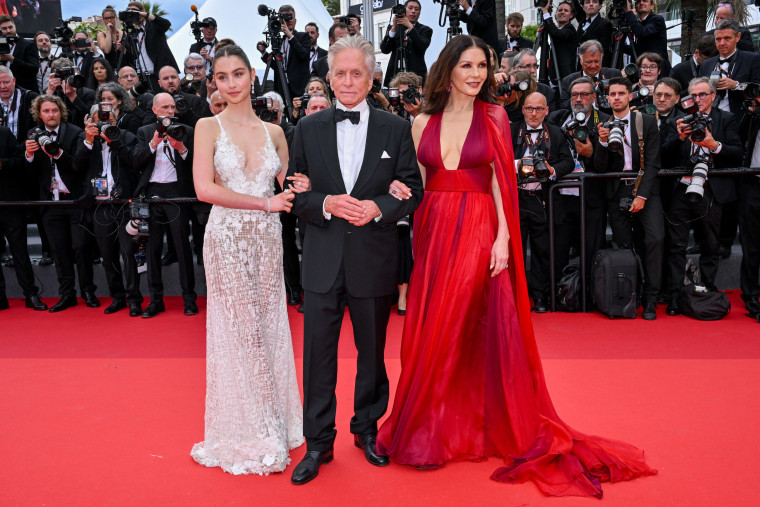 Douglas looked dapper in a black tuxedo with a white dress shirt. His 20-year-old daughter, styled by Kelly Johnson, looked lovely in a white embellished gown by Elie Saab, Sarah Flint shoes and Chopard jewelry.
The "Wednesday" actor, on her end, exuded elegance also in an Elie Saab red and burgundy dress from the spring-summer couture collection. She paired the flowy gown with Sarah Flint heels and Chopard jewelry, just like her daughter.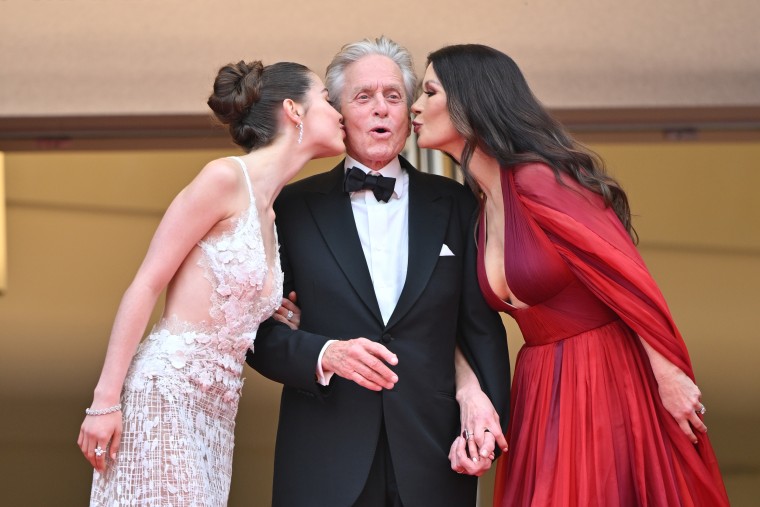 During their time on the red carpet, the family posed for multiple photos and even took one with Douglas Zeta and Zeta-Jones giving the family patriarch a kiss on the cheek.
In video shared by ET Canada from inside the event, Uma Thurman presents Douglas with the Palme d'Or. The award is given to exceptional individuals who have made a profound and lasting impact on cinema.
"I could not think of a more deserving person of this than Michael Douglas," Thurman said before the actor walked onstage and accepted his trophy.
The "Basic Instinct" star then expressed how much the award means to him, as well as gave his wife and daughter a sweet shoutout.
"I want to thank all of the filmmakers that I've worked with over the years, all of the film crews, the hundreds and hundreds of people that did such great job in their departments, and all of the joy and happiness that we had working together," he said. "And also want to say hello to my wife and to thank her and my daughter, Carys, who are with us tonight, to thank you for your love, your support."
Douglas and Zeta-Jones are also parents to 22-year-old son Dylan. Douglas also shares son Cameron Douglas with ex-wife Diandra Luker.