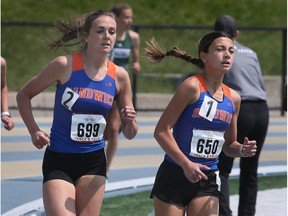 Article content
The Sandwich Sabres gave every indication the school will once again be in the mix for an OFSAA title.
Article content
The defending provincial champions dominated the three-day WECSSAA track and field championships at University of Windsor Stadium.
"Do I think it could happen?" Sabres' head coach Rob Moore said. "I do, but anything can happen. You have to take it one meet at a time. We still have SWOSSAA and the (OFSAA) West Regional before OFSAA."
Overall, Sandwich won its 12th-straight WECSSAA overall AAA team title with a dominating 1,067 points, which was 756 points ahead of its closest rival. Vista Academy claimed its third-straight AA/A title.
"It's a team effort," Moore said.
But the Sabres all took a moment to give thanks to the Villanova Wildcats and head coach Mike Baren. Sandwich is having its track resurfaced and Villanova has opened its facilities to the Sabres to practice and train.
Article content
"It's worked out well," Moore said.
Aside from the overall team title, the Sabres won all six divisions by taking the boys' and girls' titles in senior, junior and midget.
"I'm glad to be a part of it," Sabres' sprinter Susan Adenitan said. "It's a great blessing to be part of it."
The 18-year-old Adenitan had a strong meet. Six WECSSAA records were set over the three days and four were by Sandwich athletes with Adenitan getting two of them.
She ran 12.23 seconds in the preliminaries of the senior girls' 100 metres to break the old mark of 12.34 set by Vista Academy's Krystalann Bechard in 2019.
Adenitan had hoped to lower that mark in the final, but wound up racing to victory in 12.38.
"The 100 part of it, I kind of stumbled out of my blocks a little bit," Adenitan said. "I think that lowered my adrenaline a bit. I wasn't happy what I ran, but then said should channel it into my 200."
Article content
She did that by returning in the afternoon to win the senior girls' 200 metres in 24.98, which broke the old mark of 25.77 set by Herman's Jada Jackson in 2017.
"My goal was to hit a nice low 25 seconds and I hit 24 and it was like, 'Wow,'" Adenitan said.
There were no records, but Adenitan also won the senior girls' 100-metre hurdles and was part of Sandwich's winning 4×100-metre relay team.
Along with her own mark, Adenitan watched Sandwich teammate Jaela Bailey set a new mark in the junior girls' 100 metres. She ran an impressive 12.23 to break the old mark of 12.48, which was set in 2006 by Alexa Winik of Maranatha Christian Academy.
It was Bailey's second record after teaming with Lauren Dicaro, Ella Steel-Douglas and Savannah Baillargeon, who won the junior girls' 4×100-metre relay in 49.60. That broke the old mark of 50.18 set by Herman with Jackson, Sherye Guimond, Adie Traore and Tanay Freckleton in 2015.
Article content
Massey's Julia Scarrow broke her own mark in the open girls' 2,000-metre steeplechase. Her winning time of 7:43.51 bettered the mark of 7:49.37 that she set a year ago.
Westview's Zwena Ahmed had the other meet record in the girls' intellectual 100 metres. Her time of 17.30 beat the mark of 18.58 set by Westview's Koryssa Maisonville in 2019.
The road to OFSAA, which will be held next month in Ottawa, continues for the Sabres and area athletes next week with the SWOSSAA championship. The two-day meet will be held Wednesday in Chatham and Thursday in Windsor.
jpparker@postmedia.com
twitter.com/winstarparker
Check out our sports section for the latest news and analysis. Care for a wager? Head to our sports betting section for news and odds.