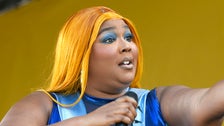 Lizzo reminded Nebraska fans on Friday that they are "valid" and deserve protections as she slammed a GOP-supported bill that includes a 12-week abortion ban and bars trans youth from gender-affirming care.
The "About Damn Time" singer's remarks arrived on the same day that lawmakers passed the bill, which Nebraska Gov. Jim Pillen (R) is expected to sign into law, after a six-week abortion ban failed late last month.
Lizzo, who is currently on her "Special 2our," declared that anyone who comes to one of her shows "should know" she supports the rights to healthcare, reproductive care and gender-affirming care before criticizing the bill a.k.a. the "Let Them Grow Act."
"There's times I get very political and as adults we feel it but there's children here tonight. And it really breaks my heart that there are young people growing up in a world that doesn't protect them," said Lizzo as she got emotional.
"So let me be your safe space tonight. Don't let anybody tell you who you are, don't let any laws tell you who you're not, bitch… you are who you are, okay?"
The Grammy-winning artist continued as she told her fans that she sees them and they are "valid."
"You deserve to be here in every form. You contain multitudes," she said.
"These laws are not real. You are what's real and you deserve to be protected. You deserve to be protected. And for anyone whose inner child needed to hear that, you deserve to be protected, too."
The Nebraska ban occurred as Republicans passed restrictive abortion bans in both North Carolina and South Carolina last week.
GOP officials in Florida, Texas, Missouri and Montana have also continued efforts to bar gender-affirming care in their states, as well.
Lizzo has made powerful statements on legislation in the past, inviting drag performers onstage during a Knoxville show to protest Tennessee's drag ban last month.
A number of Nebraska lawmakers indicated they were in attendance at the show including Nebraska state. Sens. Megan Hunt (I) and Nebraska state Sen. John Fredrickson (D).
"Thank you, @lizzo, for giving Nebraska what it needed tonight," wrote Frederickson, who is openly gay.
Hunt, who pledged to filibuster every bill for the rest of Nebraska's legislative session over its anti-trans bill back in March, wrote that Sen. Beau Ballard (R) – who voted to pass the bill – was in attendance for the speech.
"They want LGBTQ money. They want LGBTQ entertainment. They want LGBTQ culture. But at they won't vote to protect LGBTQ lives and safety," wrote Hunt, who is openly bisexual and a mother of a trans son.