Should the Mounties withdraw from small communities across Canada to fully concentrate on big-ticket federal files such as cybercrime, fraud and human trafficking?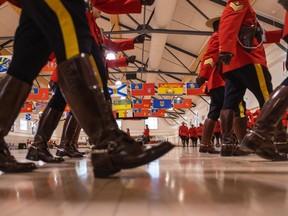 Article content
OTTAWA — As the RCMP marks its 150th anniversary, a familiar, nagging question about the storied national police force is resurfacing: Should the Mounties withdraw from small communities across Canada to fully concentrate on big-ticket federal files such as cybercrime, fraud and human trafficking?
Article content
The notion of a more focused version of the Royal Canadian Mounted Police, a sort of "FBI North" that leaves provincial and municipal policing to others, has rarely been far from conversations about the force's mandate and future direction.
Article content
But debate and introspection about aspects of what the RCMP does have come to the fore following crises including the 9/11 attacks, the 2014 storming of Parliament Hill by a gunman, and the 2022 blockades of border crossings and downtown Ottawa.
In recent years, calls for change have been driven by the force's reckoning over harassment and bullying of members, public anger about police brutality and racism, shortcomings in the force's response to the 2020 mass shooting in Nova Scotia and more general concerns about rural crime.
Article content
The RCMP traces its roots to the May 23, 1873, approval of legislation to establish the North-West Mounted Police to keep the peace in vast tracts of land newly transferred to Canada. In 1920, the force would absorb the federal Dominion Police to become the RCMP.
With some 19,000 police officers and 11,000 civilian members, the Mounties work in over 700 detachments and provide policing services in more than 600 Indigenous communities.
The force also offers specialized services ranging from forensic analysis of evidence to criminal records information.
Contract policing under scrutiny
The RCMP provides contract policing services to every province but Ontario and Quebec, which have their own forces, as well as the three territories and some 150 municipalities.
Article content
Federal officials have quietly warned the demand for contract RCMP officers has outstripped the force's capacity to recruit and train them, causing shortages that have led to officer health and wellness concerns.
The prime minister has asked Public Safety Minister Marco Mendicino to carry out an assessment of contract policing in consultation with provinces, territories, municipalities, Indigenous partners and other parties.
It's time for the RCMP to withdraw from contract policing and devote itself to national investigations, said Michael Boudreau, a professor in the department of criminology and criminal justice at St. Thomas University in Fredericton.
"If it doesn't embrace fundamental change, it may not have another 150 years," he said.
Article content
Others say the answer isn't curtailing the scope of the RCMP's mission, but continuing to find ways to do things better.
If it doesn't embrace fundamental change, it may not have another 150 years

Michael Boudreau, criminology professor
"We're definitely not the same organization we were in 1873, or 1973, or even 2003," said Brian Sauve, president of the National Police Federation, which represents thousands of regular RCMP members and reservists. "There's been a lot of change, and that's a constant within this police force. And a lot of those changes are industry leading."
An independent 2020 report on harassment of women in the RCMP said fundamental change was needed to rid the force of a toxic culture that tolerates hateful and homophobic attitudes. It called for a deep external review of the institution and the future of the force as a federal policing organization.
Article content
The recent report of the inquiry into the Nova Scotia shootings said the federal government should commission that external review, ensuring it specifically examines the RCMP's contract policing and work with contract partners, as well as its approach to community relations.
Upon receiving the review's findings, the inquiry report said, the federal public safety minister should establish clear priorities for the RCMP, retaining the tasks that are suitable to a federal policing agency, and identifying the responsibilities better reassigned to other agencies, perhaps including new police services.
"This may entail a reconfiguration of policing in Canada and a new approach to federal financial support for provincial and municipal policing services."
Article content
Where necessary, provincial, territorial, and federal governments must provide money to municipalities and local communities, including Indigenous ones, to ensure adequate policing services in rural and remote areas, the report added.
Boudreau said the RCMP is spread too thin to police communities effectively, and provinces should follow the lead of Ontario and Quebec and set up their own forces or expand municipal ones into regional services.
"That's going to take some time," he said. "But the sooner you start, the better."
Sauve balks at the notion the RCMP does a poor job of front-line policing, citing statistical evidence to the contrary, and he notes the force has come to recognize the importance of officers setting down roots in the places they police.
Article content
He stresses the importance of robust RCMP recruitment and staffing to avoid overwork and burnout in detachments. Sauve also sees benefits in giving communities a greater say in determining appropriate resource levels, rather than others deciding personnel and budget levels for them. "So it really has to be bottom-up versus top-down driven," he said.
Police are shouldering the burden of years of cuts to social and mental-health services, said Linda Duxbury, a professor at Carleton University's Sprott School of Business who has researched employee well-being and the sustainability of policing in Canada.
"We've got a homeless crisis, we've got a mental health crisis, we've got a drug crisis, we've got guns, we've got violence, we've got gangs," she said.
Article content
"We don't talk about the fact that in many communities, the police are the only service that's available 24/7."
There is an emerging consensus that policing must evolve to incorporate help from other professional service providers trained and equipped to deal with people in crisis.
Updating RCMP 'militaristic' training is long overdue, experts say

Murray Mandryk: Regina best place for an enhanced RCMP training program
Detasking not defunding
Many see it not so much as defunding the police as detasking them.
Some innovative programs are already emerging. In Saskatchewan, the RCMP has added registered psychiatric nurses to its operational communication centre. They provide help to 911 callers experiencing a mental health crisis and to officers responding to such incidents.
Article content
The Nova Scotia inquiry recommended the federal government enact legislation within six months to create a statutory framework to support and enhance community safety and well-being in every province and territory.
This national framework would be based on guiding principles central to the delivery of public services that include a prevention-first approach to safety.
The approach involves trying to "break down some of the silos" between policing, mental health providers, housing services and education programs, said University of Toronto law professor Kent Roach, who this year became chair of the management advisory board for the RCMP which provides external guidance on modernization and management.
Article content
"I don't think you're hearing a lot of resistance from the police, because I think they recognize that they don't really have expertise with respect to mental health or some other issues that they're dealing with," Roach said.
He cautioned that it's one thing to come up with a safety and well-being plan, and another to ensure "there is seamless operation and equitable funding of all of these different services" that contribute to community safety.
Roach sees strong and effective governance of police as key.
"I think the more that can be done to ensure civilian oversight and political accountability for the RCMP, the better."
Writing as an academic before joining the management advisory board, he said it should be turned into a transparent and representative national police board that holds public meetings and provides open advice to the overseeing minister.
Article content
Duxbury said the RCMP must increase efforts to bolster public confidence "to actually move the conversation from one of distrust and 'How do I know the police won't hurt me?' to one where there's more mutual relationship building," she said.
She said the next permanent RCMP commissioner, to be chosen in the coming months, should be given a mandate to make some real changes, including how the force promotes officers to ensure the best ones advance.
There is a need for overarching value statements to guide the decision-making of senior RCMP officers, but also recognition that the way they go about their work will vary across the country, Duxbury added.
"You need leaders who are committed to change. And you need leaders who walk the talk. And you need leaders who have some ability to actually pull the levers that will impact change."
Article content
Related
---

Key events in the evolution of the national police force
May 3, 1873: Act establishing the North-West Mounted Police introduced by then-prime minister John A. Macdonald.
May 23, 1873: Bill passes unopposed through Parliament and receives royal assent. However, it does not immediately establish NWMP, as it is merely an emergency measure.
Aug. 30, 1873: Order-in-council brings NWMP into existence.
Oct. 18, 1873: George Arthur French becomes first permanent commissioner.
Nov. 3, 1873: First 150 recruits for the NWMP gather at Lower Fort Garry, Man., north of Winnipeg.
July 8, 1874: March West to what is now Alberta begins at Fort Dufferin in Manitoba.
1876: First public performance of riding skills at Fort Macleod in Alberta.
1887: Musical Ride first performed at Regina.
June 5, 1895: A NWMP contingent leaves for Yukon, extending presence to northern frontier.
June 24, 1904: King Edward VII confers title of "Royal" upon North-West Mounted Police.
July 21, 1908: Order-in-council approves fingerprint system.
Jan. 1, 1917: RNWMP is relieved of provincial policing duties in Manitoba and Saskatchewan, with the creation of their own provincial police forces.
1919: Force's pan-Arctic presence includes 25 detachments and over 70 men.
July 14, 1919: Order-in-council increases size of the RNWMP to 2,500 members.
Feb. 1, 1920: The Royal North West Mounted Police becomes the Royal Canadian Mounted Police with absorption of the Dominion Police. Headquarters is moved to Ottawa from Regina.
June 1, 1928: RCMP takes over provincial policing duties for Saskatchewan.
April 1, 1932: RCMP absorbs provincial police organizations for Alberta, Manitoba, New Brunswick, Nova Scotia and Prince Edward Island.
April 1, 1932: Patrol boats and personnel are transferred from Department of National Revenue, creating RCMP Marine Section.
April 1, 1937: RCMP Air Services is created with the purchase of four planes.
April 1, 1960: Civilian member category created in RCMP for work in crime-detection laboratories and various technical fields.
1966: Last year of mandatory equestrian training for all recruits.
June 30, 1967: David Lawrence, RCMP's first Black member, begins training in Regina.
March 3, 1975: First all-female troop graduates.
July 16, 1984: RCMP Security Service ceases to exist with duties taken over by newly formed civilian agency, the Canadian Security Intelligence Service.
1989: Last female-only troop goes through training.
Oct. 19, 1989: RCMP contingent sent to Namibia to monitor elections, making the first time the force participated in a United Nations mission.
1990: Baltej Singh Dhillon becomes first RCMP member to wear a turban during recruit training.
1992: Women are issued iconic Stetson, boots and breeches for first time.
Dec. 16, 2006: Beverley Busson becomes interim commissioner, first woman to hold post.
Oct. 5, 2011: New RCMP headquarters opens in Ottawa.
April 16, 2018: Brenda Lucki becomes first permanent female commissioner.
Related
The news seems to be flying at us faster all the time. From COVID-19 updates to politics and crime and everything in between, it can be hard to keep up. With that in mind, the Regina Leader-Post has created an Afternoon Headlines newsletter that can be delivered daily to your inbox to help make sure you are up to date with the most vital news of the day. Click here to subscribe.