"The guys spent a lot of time analyzing last year and learning from it, but then you've got to turn the page and we've turned the page," Roughriders president and CEO Craig Reynolds says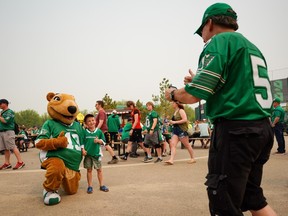 Article content
The Saskatchewan Roughriders have turned the page on last season.
Article content
While some of their fans maybe haven't forgotten about the Riders' struggles of 2022, the Riders are ready to move on.
Article content
Roughriders president and CEO Craig Reynolds says "it's not hard at all" to flip the switch on the disappointing 2022 season.
"We're looking forward to turning the page," Reynolds said. "We worked really hard in the off-season and that's the key here. The guys spent a lot of time analyzing last year and learning from it, but then you've got to turn the page and we've turned the page. Certainly once camp starts, you immediately turn the page and we don't talk about last year anymore because we spent the off-season addressing it and doing the things we felt we needed to do to make sure we're much improved this year."
Article content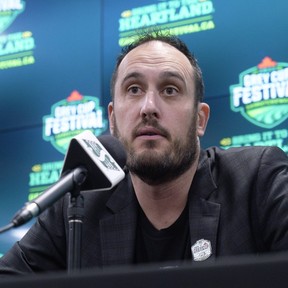 Reynolds, along with vice-president and general manager Jeremy O'Day and head coach Craig Dickenson, were on hand for the annual Riders' state of the nation panel discussion and Q-and-A session Saturday.
Reynolds says the team has two goals after "obviously a tougher season" on the field last year.
"We want to have a really nice bounceback season on the field but off the field as well," he said. "We're really focused on the engagement of our fans … and having full stadiums."
The annual Green and White Day, along with the state of the nation session is part of that.
"One of the great things about the CFL is accessibility," said Reynolds. "To be able to have your head coach up here, and GM, and just hearing from the fans and talking about football and answering fan questions … that's what makes the CFL special.
Article content
"I think this is the biggest turnout we've had and we've been running this event for a number of years. That's really, really encouraging. Accessibility is key not only for our club but for the league as a whole."
While it's sometimes hard to gauge overall support, Reynolds senses optimism in the province around the team in general.
"It's been really difficult post-COVID for all of us in the (entertainment) industry to really understand what's going on, whether it's habits being changed or what's going," admitted Reynolds. "Concerts aren't necessarily selling out like they used to. Live sports aren't selling out like the used to. Large events are selling out so that's why we're really leaning on theme days and things like that. That's the focus. Things like (Green and White Day) help as well, interaction with fans. We've spent as much time in the off-season as we could, interacting with our fans and hopefully it results in full stadiums."
Article content
To that end, Reynolds says the Roughriders have lowered the ticket price for 9,000 seats at Mosaic Stadium to address the issue of affordability.
"We're going what we can on the concession side as well as we're really focused on value-priced menu items and to make sure we're offering an affordable product," added Reynolds. "Every concession in the stadium will have a $5 menu item."
As for the league as a whole, the CFL has a new agreement with the CBS sports network to broadcast 34 CFL games this season.
"It's a really big deal," said Reynolds. "CBS is a well respected sports brand in the United States, so for them to carry 34 of our games and it fills a nice gap for them, as well, to lead up to the NFL.
"The reach with that broadcast deal is important and we complemented that with CFL plus which is (additional) streaming able to reach fans for the games that are not covered on CBS. And that's a free product so hopefully we get tremendous reach in the U.S. with that, as well."
dzary@postmedia.com
Smoke forced Riders indoors earlier in the week

Harris looks sharp during shortened Green and White game
The news seems to be flying at us faster all the time. From COVID-19 updates to politics and crime and everything in between, it can be hard to keep up. With that in mind, the Saskatoon StarPhoenix has created an Afternoon Headlines newsletter that can be delivered daily to your inbox to help make sure you are up to date with the most vital news of the day. Click here to subscribe.