Argentina has introduced a new peso banknote as it battles soaring levels of inflation.
Quartz Smart Investing: Anna Han
A 2,000 peso-note entered circulation yesterday (May 22), with a value equivalent to only about $8.50 on Argentina's official market, and $4 on the country's thriving informal market. Previously, the largest bill in Argentina was the 1,000 peso-note.
Argentina's inflation rate hit 109% in April, while its benchmark interest rate was raised to 97% last week. The peso has continued to depreciate against the dollar, as its official value plummeted about 20% in value this year. In May 2022, one US dollar was officially worth about 119 pesos; a year later, it is worth more than 220.
During this period of hyperinflation, ATMs have frequently run out of cash, and carrying stacks of cash has become a necessity for everyday payments—especially in a country where cash is widely used. The new banknote is designed to ease some of these problems.
"As the process of digitizing payments progresses, this higher denomination bill will improve the operation of ATMs and at the same time optimize the movement of cash," Argentina's central bank said in a statement (link in Spanish).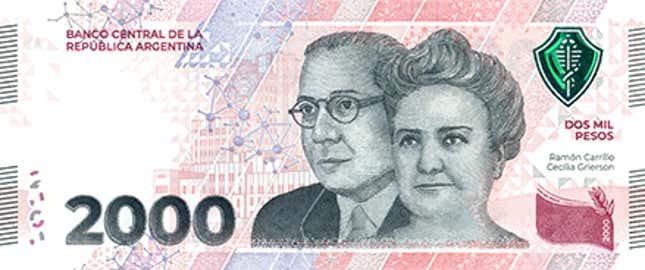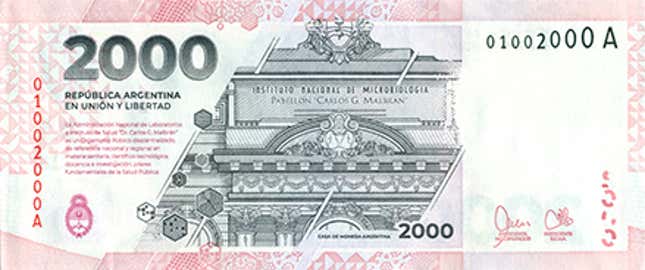 Argentina's "blue dollar" and the rise of multiple exchange rates
Most Argentines obtain cash through parallel markets, where the peso is valued at far less than on the official market. The unofficial "blue dollar" rate can sometimes fetch twice the amount of pesos per dollar, compared to the official exchange rate.
The strength of the black market is a result, in part, of the country's stringent capital controls, which Buenos Aires introduced in 2019 to stabilize its economy and shore up its foreign exchange reserves. As it became harder to buy and sell dollars legally, the black market stepped in to provide that service.
Argentina's capital controls have also led to the birth of multiple exchange rates, sometimes highly specific to a particular event or service. It has led to the rise of the "Netflix dollar" for foreign streaming services, the "Qatar dollar" for 2022 World Cup travelers, and even the "Coldplay dollar," which emerged when the British band went on tour in the country in October.
An accused Nazi war criminal is on Argentina's new banknote
Argentina's 2,000 peso-note commemorates the country's history of medical advancements and its public health agency. The bill features two professionals in the field, Dr. Cecilia Grierson and Dr. Ramón Carrillo. Grierson was the first woman to get a medical degree in Argentina, and was a pioneer in the field of kinesiology. Carillo, a neurosurgeon, became the country's first minister of public health in 1949, and pushed to expand the country's health services.
The bill has caused some controversy and outrage as Carillo has been accused of having Nazi connections. He allegedly signed a five-year contract to employ Carl Vaernet, a Nazi doctor who experimented on gay prisoners in concentration camps. Vaernet fled to Argentina in the 1940s, reportedly with the help of British and Dutch colluders, and was never tried in Nuremberg.
Related stories
🇪🇨 Ecuador's president dissolved the legislature, starting the course for new elections
🇨🇱 Chile is nationalizing new lithium production, vowing "no more mining for the few"
🇵🇾 Paraguay's presidential election was also a victory for Taiwan