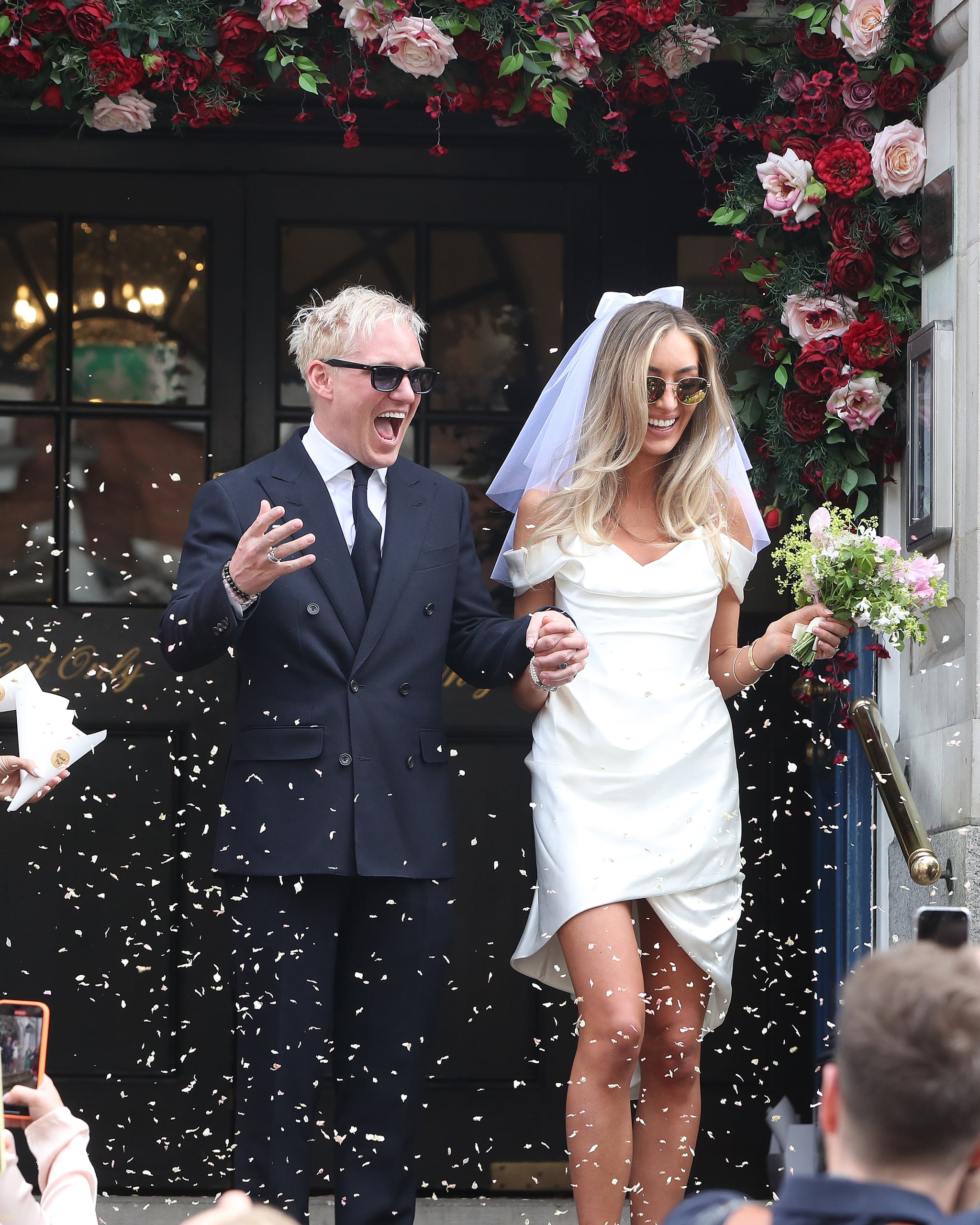 "Made in Chelsea"'s Jamie Laing and Sophie Habboo officially tied the knot in a stunning London ceremony at Chelsea Town Hall on 14 April, but they celebrated the occasion with an even bigger ceremony in Spain on 20 May. The former reality stars were surrounded by their friends and family under the stunning backdrop of the Mediterranean for their second time tying the knot, and amongst the selections for food, flowers, and dresses, there is one element that they've also shared a glimpse of: wedding lingerie.
Sharing a carousel of their dreamy wedding moments on Instagram on 23 May, the Candy Kittens founder appeared to soft-launch his marriage sex-life with a cheeky image of his wife's underwear. "This belongs to… Mrs Laing", the embroidered wording on her ruffled knickers read. This wouldn't be the first time that Laing and Habboo have shared a glimpse into their wedding night antics, though.
The reality stars previously spoke to GK Barry on the "Saving Grace" podcast about their Spanish nuptials and talk quickly turned to their plans for after the ceremony. "We are going to have real passionate sex," Habboo said, to which Laing excitedly respond: "Are we going to?" But the realities of the day soon put paid to any between-the-sheets action. "I think getting married there is a lot going on," Laing admitted. "It's also a really strange and weird thing. You have all your friends and family there, you have to walk down the aisle, you have to do a dance, you have to do speeches, you have to stand up and say all these different things. Everything is really hectic that by the end of the night you're just knackered."
And it appears that Habboo was relieved at Laing's honesty, too. "Thank god you're saying that! I think we will be quite tired that night," she said. The conversation then highlighted the weirdness of the fact that everyone is invested in what happens on a wedding night and the expectations of sex. She added that it's odd "when everyone says to you the next day 'how was last night?' and we go, 'we fell asleep…'".
Following the couple's intimate London ceremony, fans were quick to spot that Laing's best friend and podcast cohost Spencer Matthews wasn't pictured as a guest. It turns out he and his wife Vogue Williams weren't actually invited. "Sophie looked absolutely magnificent, we were absolutely thrilled for them, but we also did not know it was happening because we were not invited," he revealed on the "Spencer and Vogue" podcast.
"I'm not here to b*tch about my best friend but there's been some serious miscommunication from him," he continued. "I just want to set the record straight. I'm not here to whinge. I was not invited to this part of Jamie's wedding, and neither was Vogue." However, Matthews was at the Spanish wedding, and acting as MC, although Williams had work clashes so was unable to attend. The old friends aired out their confusion on an episode of "Nearlyweds", so all is well between them.
While whatever happened during Laing and Habboo's wedding night is none of our business, we do love their snaps of the big day because we cannot get enough of their wedding spam.