And that's a wrap on Season 23 of "The Voice" and longtime host, singer Blake Shelton.
"The Voice" finale on Tuesday, May 23, was the country superstar's final episode as a coach — and it was a star-studded celebration with a new singer crowned the winner.
Shelton's finale episode kicked off with host and TODAY's Carson Daly knocking on the country singer's dressing room. Shelton then made his way down to his revolving chair as the crew lined up with red foam fingers giving him high-fives and hugs. Fellow original coach Adam Levine greeted Shelton on the stage, sharing some words of wisdom — and cracking some jokes. "Don't screw it up. It's your last show," he said, before telling him he loves him.
Going into the finals, every coach had an artist still in the game. Shelton had two singers in the running, Grace West and Noivas, meaning two chances to be named the reigning champion and score his 10th win, the most for any coach in "The Voice" history.
Team Kelly Clarkson consisted of D. Smooth, Team Niall Horan had Gina Miles, and Team Chance the Rapper had trio Sorelle. 
So who took home the big win?
Gina Miles was named the Season 23 winner, with Team Niall winning.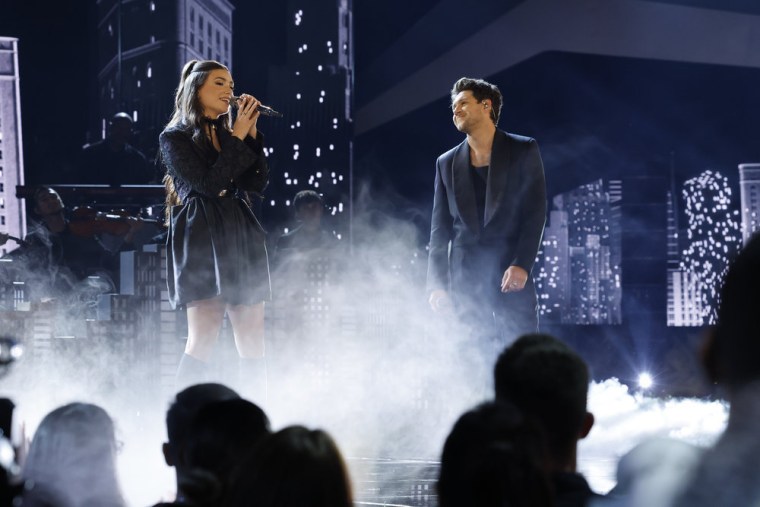 In second place was Grace West, followed by D. Smooth, Sorelle in fourth and Noivas in fifth.
Shelton — who has been a part of the show since it premiered in 2011 with Levine, Christina Aguilera and CeeLo Green — was bid farewell with appearances by his former winners and coaches. Gwen Stefani, who met her now-husband when she was a coach in 2014, also sent in a video message touching on how their lives changed while on the show and how she found her "soulmate."
"When I first came on the show, our lives were having this parallel destruction happening and then next thing you know Blake and I start becoming besties and falling in love," Stefani said in the clip. "It's hard for me to even talk about it without getting super emotional."
Shelton said "he loved seeing" the video, telling Daly that they reflect on their romance "at least once a week." "We stop and go, 'Can you believe that happened? We met each other on the show and the circumstances? And it's just been the greatest thing that's ever happened to me in my life."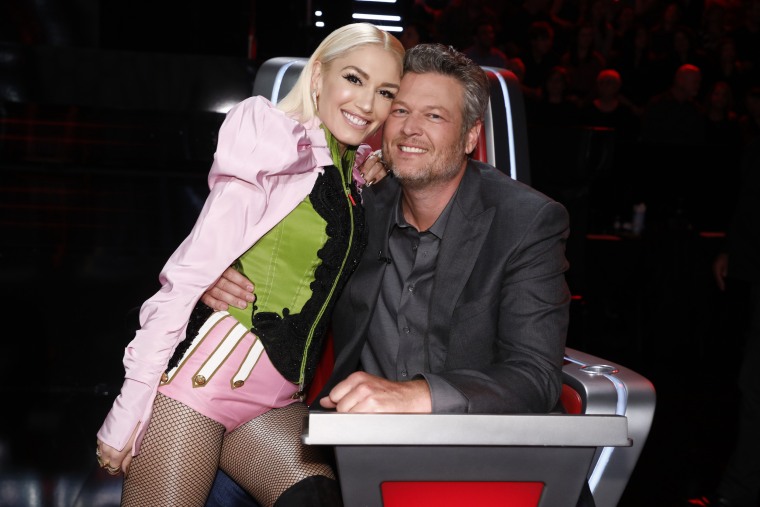 John Legend, Usher, Camila Cabello, Jennifer Hudson, Nick Jonas, Pharrell Williams and Dolly Parton also paid tribute to Shelton.
Towards the end of the show, all Team Blake winners delivered a heartwarming performance of "Good Riddance" by Green Day. Shelton was visibly shocked to see all his past singers together on one stage.
"I don't even know what to say. But these two especially coming out here, this is Season One, Xenia and Dia (Frampton), coming out here," he said. "It's like, whoa, it all came back… And this is, what the heck is going on?!"
Before the finale, Shelton also reflected on his time on the show.
"Can't believe it's been 23 seasons of @nbcthevoice… and especially can't believe today is my final episode. It's bittersweet. When we signed up for season 1, I don't think any of us knew what this was going to be," he tweeted alongside photos of his past seasons. "These past 12 years I have made lifelong friends and memories. I've had the great opportunity to coach some really talented artists, 9 who have taken home #TeamBlake wins (let's make that 10 tonight?), and watch these artists grow so much from the show."
He concluded, "Thank you to everyone… the crew, the coaches, the contestants, the fans, and my wife who have made these some really great years. Love y'all!!!!!!"
"The Voice" will return for Season 24 with Horan, Legend and Stefani returning as coaches. Reba McEntire will also occupy one of the red chairs for the first time.