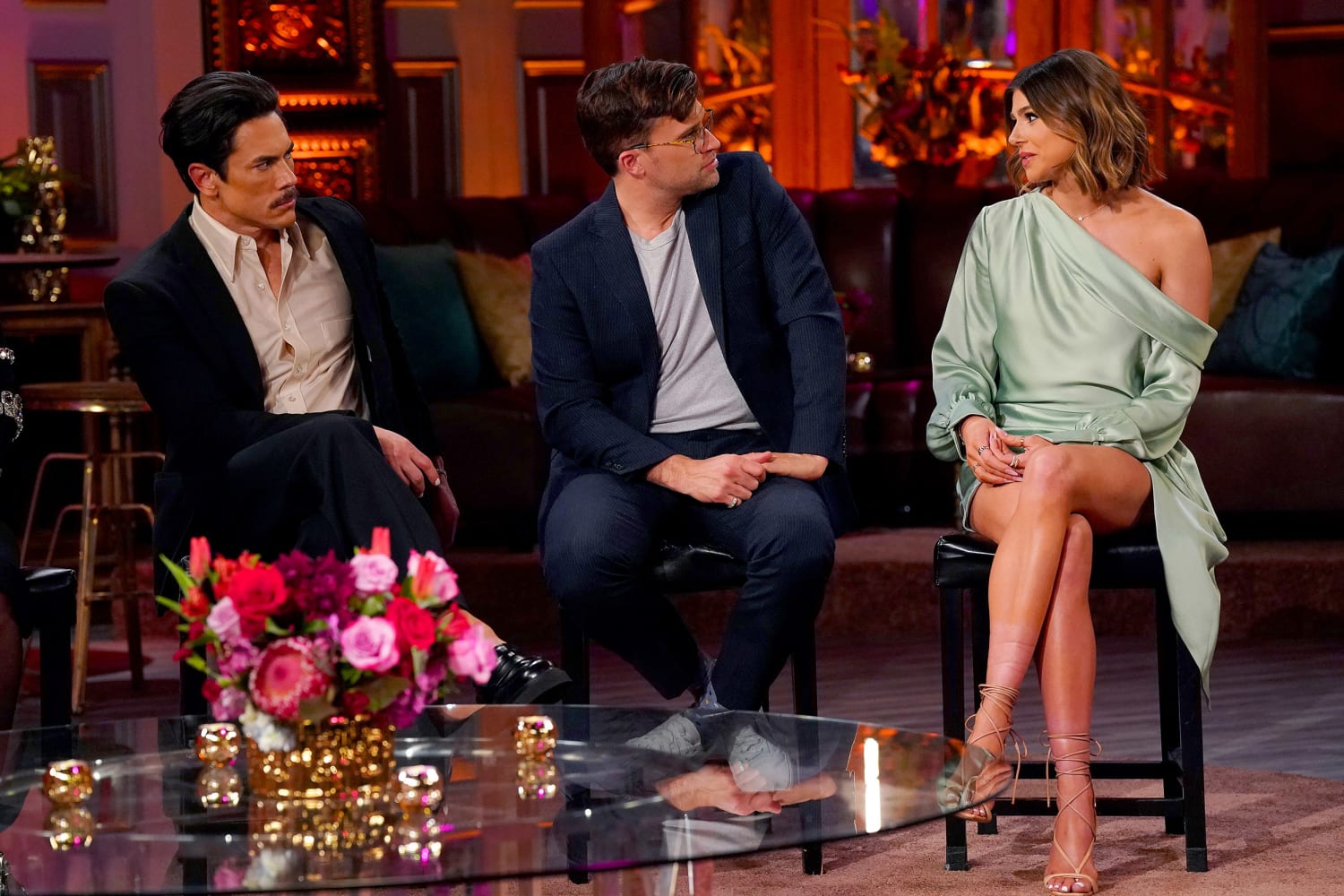 If you've been eagerly waiting to hear Raquel Leviss tell her side of the "Scandoval" story, you'll have to wait a little longer. The "Vanderpump Rules" star was noticeably absent from the first part of the show's three-part reunion, which aired May 24.
While Leviss does make a few brief appearances in the TV special, she doesn't appear in any interviews with her castmates, and the reunion host Andy Cohen explains why in the first few moments of the special.
"(Everyone's here) minus Raquel Leviss, who is not legally allowed to be in the same room as Scheana Shay due to the restraining order that she filed," he says.
In case you missed it, Leviss alleged that Shay, one of her close friends, assaulted her in March after Shay learned about her affair with Tom Sandoval. Shay denied the claim, and Leviss eventually dropped the restraining order.
Sandoval was in a nearly nine-year relationship with Shay's close friend Ariana Madix when he engaged in a months-long affair with his co-star (and one of Madix's friends), Leviss.
As Cohen mentions the restraining order, Madix grins for the camera, and Shay shakes her head in acknowledgement. The host then explains that Leviss will join the cast later on, presumably for a session without Shay on site.
Throughout the special, Leviss can be seen in a trailer outside watching the interviews as they take place. At one point, she looks on in horror as her ex-fiancé James Kennedy and Sandoval almost get into a physical altercation.
The fight almost occurs when Cohen asks Sandoval why he didn't come clean to Madix when he began his affair with Leviss. After Sandoval and Kennedy argue, Leviss waits to hear what Sandoval will say.
"I want him to answer this question," she says and grins.
After several additional interruptions from Kennedy, Sandoval responds.
"I was obviously scared to, I think. Also, she was going through a lot at that time and I didn't want to add anything," he says, and Madix rolls her eyes.
At the beginning of the special, which was filmed March 23, Cohen sits down with Leviss and asks her how she's feeling about seeing her castmates ahead of the reunion.
"I don't know, I'm just preparing for the worst, hoping for the best," she says.
Meanwhile, Madix has a lot to say about her former friend and tells Cohen that it took Leviss 48 hours to reach out to her after she found out about the affair.
Madix shares a copy of their alleged text message exchange, which starts with a message from her to Leviss that reads, "you are DEAD TO ME."
In response, Leviss wrote, "Ariana, I don't know what to say right now besides I really f—– up and I am so so so sorry."
Before blocking Leviss, Madix responded and said, "shut the f— up you f—— RAT."
After filming the reunion in March, Leviss entered a facility for mental health treatment.
"Raquel and her family decided, months before the relationship was discovered, that she needed mental health treatment and ultimately decided she would enter a voluntary facility for mental health counseling," Leviss' rep told TODAY.com on April 14 via email. "Raquel was scheduled to go in pre-reunion but decided she wanted to finish her filming commitment. Bravo and production were aware and in support of her journey towards better mental health."
The second part of the "Vanderpump Rules" Season 10 reunion will air May 31 at 9 p.m. ET.